The Economist subscription - Save up to 50%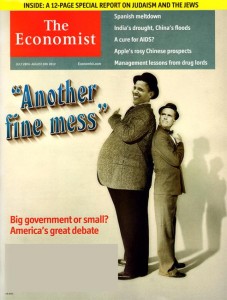 The Economist brings authoritative insight and opinion on international news, politics, business, finance, science and technology. It is one of the most well-respected publications in the business & finance space and is printed globally.
The publishers of The Economist refer to the publication as a newspaper. This goes back to the roots of the publication back in the mid-1800's. The Economist currently has offices in New York, London and San Francisco, and is growing worldwide.
Each and every issue of The Economist is filled well-written with thoughtful analysis – and full of opinions. This is a must-have for those serious about staying in tune with worldwide business and finance happenings.
Issues per year: 51
Publishing frequency: Weekly
First published: 1843
Publisher: The Economist Group

↓ Don't miss out on a chance to save up to 50% on a The Economist subscription. ↓

Deep Discounts on Business Magazines: The Economist

Looking for another business & finance magazine? See our Top 5 List or view all current deals.